Japan Institute of Sports Sciencies
Postal address:
3-15-1 Nishiga-oka kita-ku
Institutional dependency:
Public Agency Japan Sport Council
Sports:
Athletics
Fencing
Gymnastics Artistic
Judo
Ski Jumping
Table Tennis
Weightlifting
Support services:
biomechanics
nutrition
physiotherapy
sport medicine
sport physiology
sport psychology
sport science laboratories
strength and conditioning
video analysis
Additional sport facilities:
baseball court
ergometric training centre
gymnasium
recovery centre
Suitable for:
elite
international
national
olympic
Admission athletes of other countries with fees: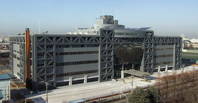 fidelity award: Bronze
Weather
Wind:
Winds ENE at 5 to 10 mph.
Mostly cloudy. High around 80F. Winds ENE at 5 to 10 mph.
SPORTS AND FACILITIES
Sport facilities: 50m Indoor Swimming Pool, Inddor Syncronized Swimming Pool,Indoor Shoting Range,Indoor Rowing Facility, Indoor Athletic Facility, 1 Multipurpose Gymnasium, Gimnastics, Wrestling, Fencing, Weight Lifting, Boxing, Strenght Conditioning, 4 Tennis Courts, Soccer Field
Support services: Sports Medicine Clinic, Rehabilitation, Physiotherapy, Nutrition, Physiology, Biochemistry, Psychology, Biomechanics, Performance Analysis, Game Analysis.
Studies arranged, available for athletes in the centre or externally: N/A
Admission athletes of other countries for training under fees: Yes, under permission of the national sport federation
Residence number of beds: 80 Beds
ENVIRONMENT (enviromental conditions)
Average temperature autumn: 13
Average temperature spring: 18
Average temperature summer: 27
Average temperature winter: 6
Average pluviometry autumn: 92
Average pluviometry spring: 128
Average pluviometry summer: 60
Average pluviometry winter: 92