Chula Vista Olympic Training Center
Name of the director:
Malcolm Bordelon, President & CEO
Institutional dependency:
Program use and sponsorship
Sports:
Archery
Athletics
Beach Volleyball
Canoe Sprint
Cycling BMX
Cycling Road
Football
Hockey
Rowing
Rugby
Triathlon
Support services:
biomechanics
nutrition
sport medicine
sport physiology
sport psychology
strength and conditioning
Suitable for:
elite
international
olympic
paralympic
Admission athletes of other countries with fees:
Airport name:
San Diego International Airport - SAN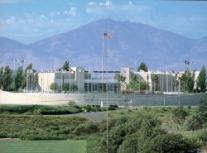 fidelity award: Silver
Weather
Wind:
Winds WNW at 10 to 15 mph.
Some clouds this morning will give way to generally sunny skies for the afternoon. High 82F. Winds WNW at 10 to 15 mph.
FACILITIES
Three on-site BMX tracks range in difficulty from amateur to elite. Two tracks have the regulation eight meter tall Supercross start ramp.

The state-of-the-art archery complex has outdoor targets allowing for training distances from 30 to 90 meters as well as an indoor training space.

Multiple natural grass fields are manicured for rugby and soccer training and competitions, but also appropriate for lacrosse and other grass sports.

The field hockey pitch is newly resurfaced and ready for training and hosting international competitions.

The newly resurfaced track has eight 400-meter lanes with a 12-lanes 100-meter straightaway, long jump, high jump and pole vault pits. The adjacent throwing field has javelin runways, a shot put pit and throwing rings for discus and hammer.

The six regulation-size beach volleyball courts are stocked with 2,200 tons of professional-grade sand.

Two newly resurfaced tennis courts can be used to practice tennis and for plyometric training.

The boathouse sits on the Lower Otay Lake reservoir with a private boat dock. A 3,000 meter course is marked with buoys and the lake is reserved exclusively for athlete use on Monday, Tuesday, Thursday and Friday.

A cycling criterium is available with a .90 mile loop for cycling and triathlon training.

The strength & conditioning center boasts numerous Olympic-style weightlifting platforms and plenty of weights. 

Housing is set up in two-bedroom, two-bathroom suites with a living room.

Up to 1,000 nutritious meals are served daily in the dining hall to refuel athletes after hard training sessions.

The AT&T Athlete Connections Center provides a spot for athletes to relax, watch TV, play games or use computers.
Support services: Sports Medicine, Sport Physiology, Sport Psychology, Strength & Conditioning personnel are available to provide on-site support to athletes and coaches.
Admission for athletes of other countries for training (fees): Yes.  Rates vary depending on housing unit, venue use, meal plan and other services. Contact the CVEATC for rates.
Residence number of beds: 196 beds
ENVIRONMENT (enviromental conditions)
Average temperature autumn: 20
Average temperature spring: 17
Average temperature summer: 21
Average temperature winter: 14
Average pluviometry autumn: 18
Average pluviometry spring: 24
Average pluviometry summer: 20
Average pluviometry winter: 41
Weather cast