Norwegian Olympic Sports Centre
Postal address:
Sognsveien 228, 0806 Oslo (Norway)
Institutional dependency:
The Norwegian Olympic and Paralympic Committee and Confederation of Sports (NIF)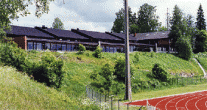 fidelity award: Bronze
Weather
SPORTS AND FACILITIES
Permanent sports in the centre: All norwegian national teams are doing some of their training and testing in the centre.
Sport facilities: Strength training and testing, endurance testing, a gym for coordination-, balance- and stretching training. The centre is surrounded by National forest with many tracks for running and cross-country skiing.
Support services: Health Department with doctors, physioterapist, massage, nutritionist.
Studies arranged, available for athletes in the centre or externally: All kinds of studies are availeble in Oslo, the University is only 10 min away.
Admission athletes of other countries for training under fees: yes
Residence number of beds: 32 rooms (2-3 beds in each room), with bathroom and cabel-TV, all meals are served.
ENVIRONMENT (enviromental conditions)
Average temperature autumn: 6
Average temperature spring: 5
Average temperature summer: 16
Average temperature winter: -3
Average pluviometry autumn: 85
Average pluviometry spring: 45
Average pluviometry summer: 78
Average pluviometry winter: 45
Weather cast