Scottish Institute of Sport
Name of the director:
Mike Whittingham (Executive Director)
Institutional dependency:
Sportscotland Lottery Fund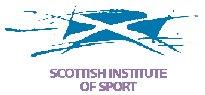 fidelity award
Weather
SPORTS AND FACILITIES
Permanent sports in the centre: Athletics, Badminton, Curling, Football (Soccer), Golf, Hockey,Judo, Rugby, Swimming.
Sport facilities: Access arranged at facilities for athletes not on site. Institute is more of an operational centre.
Studies arranged, available for athletes in the centre or externally: Athlete Career & Education Programme ACE (UK) offer various courses and advice.
Admission athletes of other countries for training under fees: No
Residence number of beds: Not a facility as such
ENVIRONMENT (enviromental conditions)
Average temperature autumn: 11
Average temperature spring: 10
Average temperature summer: 19
Average temperature winter: 4
Average pluviometry autumn: 95
Average pluviometry spring: 62
Average pluviometry summer: 63
Average pluviometry winter: 94
Weather cast