XI International Forum on Elite Sport, Barcelona (Spain)
Tuesday, 8 October 2019
to
Friday, 11 October 2019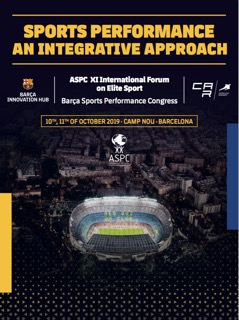 The registration for the XI ASPC International Forum 2019 to take place in Barcelona on the 10th and 11th of October 2019 is open! You can register at: https://barcainnovationhub.com/event/aspc-forum-elite-sport/
Following ASPC By-laws the first two registrations per centre will be free of charge.From the third registration and above  the price for ASPC Members is 195 € if you register before the 30th of June (Early registration) and 264 € if you register after the 30th of June (Late registration).
Therefore we will proceed, once the members get to the webpage to Barça Innovation Hub, you would have to go to the chat box to announce your ASPC membership, providing the name of your center and you will receive a code with the free registration or in case the first two registrations have been completed, you would receive a code for the special ASPC rate.
Also we are happy to announce that the hotel for the ASPC Board and ASPC Members is the Senator Hotel. 
Transportation will be provided for Wednesday 9th from Senator Hotel to CAR Sant Cugat and back to Senator Hotel.
We look forward to seeing you all in Barcelona this October!
Best,
Here you will find aditional info of the Barça Sport Sciences Week
https://barcainnovationhub.com/event/barca-sports-science-week
An Draft overview of the week for your planning and scheduling.
Monday October 7th - BARÇA INNOVATION HUB - MEDICINE - ASPC ARRIVALS
Tuesday October 8th - BARÇA INNOVATION HUB - PHYSIOTHERAPY - BOARD MEETINGS AT CAR SANT CUGAT - ASPC ARRIVALS
Wednesday October 9th - BARÇA INNOVATION HUB - NUTRITION - ASPC GENERAL ASSEMBLY AT CAR SANT CUGAT - WELCOME DINNER AT CAR
Thursday October 10th - BARÇA INNOVATION HUB - ASPC FORUM 1 - AT BARÇA STADIUM - COCKTAIL AT BARÇA STADIUM LOUNGE
Friday October 11th - BARÇA INNOVATION HUB - ASPC FORUM 2 - AT BARÇA STADIUM - CLOSING COCKTAIL AT BARÇA STADIUM LOUNGE 
Saturday October 12th - FREE WEEKEND - For enterteinment and enjoying Barcelona. MESSI 10 Cirque du Soleil  https://www.messicirque.com/en/index.php